For an idea of what our service costs we have a Longarm Quilting Price Guide.
---
PREPARING YOUR WORK FOR QUILTING
Press your quilt top and make sure it LIES FLAT (see images below). This is important because excess fabric would pucker or fold when being quilted. Make sure all seams are robust with appropriate seam allowances as your quilt top will be moved around quite a bit before and during the quilting process and we don't want seams coming undone.
Trim off any loose threads on the front AND on the back of the patchwork top, especially darker threads if used. Darker stray threads show through on the finished piece and look unsightly.
Supply the top, batting and backing as 3 separate pieces (don't baste together). Each layer is loaded onto our quilting frame separately and brought together during the quilting process.
Square off your patchwork top and backing fabric. Your work will be quilted as received (if the top is not squared off the resulting quilt will not be square.) You may prefer to make any borders a little wider than the final size.
 If your backing has joins remove any selvedges from the joins as these shrink differently. You can leave selvedges on outer edges. Your finished quilt will be slightly smaller when finished due to the quilting process.
 We recommend that you add a stay stitch 1/8th inch from the edge all around the top, especially if it is pieced close to the edges – this will prevent any of the stitching coming undone during the quilting process.
 

IMPORTANT  – YOUR BACKING FABRIC AND WADDING NEED TO BE 4-6 INCHES LARGER – ON ALL FOUR SIDES.

This is necessary for the long arm quilting process.
---
BINDING
We can sew on a 2½ inch binding with mitred corners (you supply the fabric) and hand finish your binding for you, or leave this for you to hand finish. Or we are happy to do just the quilting and let you finish the quilt with a binding.
The choice is yours.
The price will vary according to which option you choose and we'll be happy to give you a quote after our consultation.
Please Note: If your quilt top or backing is badly creased, if the threads haven't been trimmed or the quilt top does not lie flat, we will have to do remedial works and make an extra charge for these services. It is therefore more cost effective for you to do this before you bring your quilt top.
---
Illustrations re prepping your quilt for longarm quilting.
Make sure your quilt top lies flat.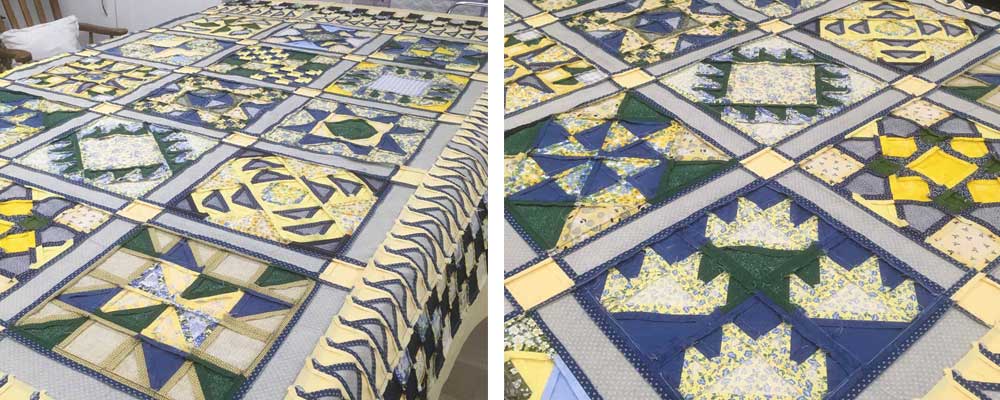 Make sure all seams are pressed the way you want them to lie.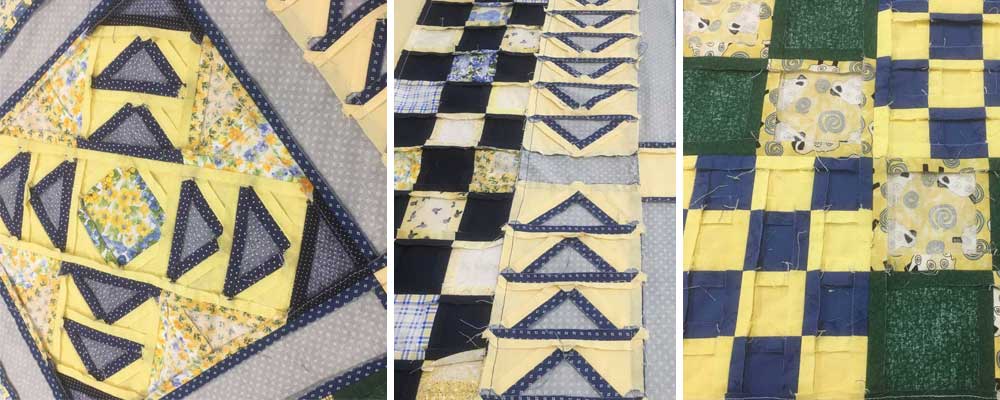 Trim off loose threads on the back as well as the front, especially dark ones behind a light fabric as these will show through once quilted.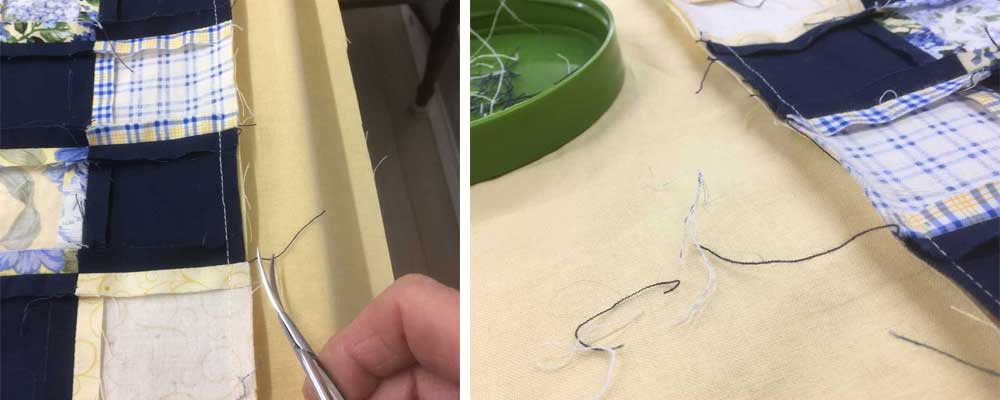 SaveSave
SaveSave
SaveSave
SaveSave
SaveSave
SaveSave
SaveSave
SaveSave
SaveSave
SaveSave
SaveSave