About Runny Babbits name:
Runny Babbits is a spoonerism on Bunny Rabbits. Definition of spoonerism: A verbal error in which a speaker accidentally transposes the initial sounds or letters of two or more words, often to humorous effect.
Our name came about purely by accident!
During one of our dog walks through the enchanting Norfolk countryside, certain that my hounds would attempt a chase if they became aware, I warned my husband of  some 'runny babbits' in the next field. Much amused by my slip-of-the-tongue, he continued to tease me on the subject every time we subsequently saw rabbits (which in our neck of the woods is often!).  From then on they became known to us as 'runny babbits'.

I was struggling to find a meaningful name for my new business. I thought it had to be something that meant something! Being ever helpful, my husband mused – call it 'Runny Babbits'.
It's fun. It's child-like. It's memorable. So I thought – why not?
About Michèle Evans – owner of Runny Babbits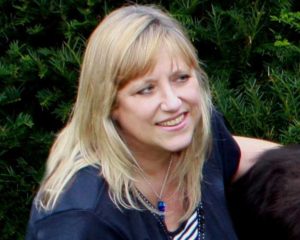 Michèle studied art and design and went on to do a BA in industrial design. After many years working as a designer in the automotive industry she undertook an MBA at Warwick Business School, and this lead to a move into marketing and brand management.
From a very early age she was driven to create things in fabric. Aged just 5, she was fascinated watching her mother whizzing away on her sewing machine. One day she asked if she could sew 'something' for her doll. Her mother reluctantly gave her some left over curtain material. She carefully drew around the doll, cut out the shape and patiently hand stitched around the shape. Of course, she had no concept of 3 dimensions and needless to say the resulting article did not fit her doll. Nor had she considered how she would get the clothing onto the doll. She learnt her first sewing lesson!
Determined to 'make' more things she pestered her mother persistently for fabric, needles and thread. She always wanted to make something. The birth of a new baby sister when she was 12 offered a perfect candidate to make toys and clothes for!
At 18, Michèle was inspired by the American programme 'The Waltons'*.  The sets of the programme featured many beautiful quilts in their large household, and so she made her first patchwork quilt –  a double sized, all hand-sewn, hexagon patchwork. (You can see it in our Historic Gallery). Having taken many months in the making, she looks back with amazement at the huge amount of work invested despite using the fabric from old, worn-out clothes. Once the patchwork was complete she visited the local library, researched traditional quilting patterns and set about hand-quilting the patchwork.
Funnily enough that old quilt survived over 40 years. In November 2015 it was discovered while clearing out an outbuilding in preparation for our new studio!  Over the years Michèle has made many patchwork quilts for friends and family as a hobby, as well as undertaking many, many other crafts.
Today
Michèle spent four decades in the automotive industry, initially in car design and then travelling the world marketing high-end, British luxury sports cars.
In 2015 she decided that she wanted a complete change and to do something more creative 'in her own right'. She made the decision to start her own business doing what she loves best – designing and making high quality, patchwork quilts and nursery accessories. This offers the opportunity to be both creative and productive, and to use the design and marketing skills she learned through her roles in these areas in industry to develop her own business.
What we do
Michèle designs and produces a range of luxury patchwork quilts, blankets, and nursery interior accessories. You can purchase these via this website. She also offers carefully selected, co-ordinating items and gifts to create the perfect ambiance for your child's bedroom or nursery. Runny Babbits products make ideal baby shower gifts and christening gifts.
About Our Quilts
Runny Babbits quilts are made from high quality, 100% cotton fabrics, layered with best quality cotton wadding*, quilted in highly decorative stitching patterns. And they're all handmade here in our studio in South Norfolk, UK Each quilt takes many, many hours to make. There's a particularly tactile quality to a traditonally made patchwork quilt, and photographs simply don't do them justice. .
If you're looking for a theme for your nursery (check out our blog), or simply looking to complement a colour scheme, Runny Babbits offers a range of bedding and nursery accessories in a wide variety of colours and designs. We're constantly creating new stock.
Our blankets make wonderful gifts for newborns, and our cot quilts make fantastic gifts for christenings or birthday.
As well as a range of standard designs we produce many one-of-a-kind designs as quilts or nursery sets. Being hand-made, every quilt we make is different – unique!
There may be items on our website that you like, but are perhaps not in the colour or fabrics you want. Or maybe you like the fabrics but want a different design. Please see our Design and Bespoke page, or  contact us via the information on our 'Contact us' page.  Subject to availability of materials, etc., we will be delighted to provide you with a quote for making the item specifically for you.
*(unless otherwise stated)
Testimonials
---
"Michèle is the most fantastic quilt maker and provides a second-to-none service – I can't recommend her highly enough. When my father passed away before my first child was born, I wanted a special way to remember him to my child and Michèle made memory quilts for myself and my sister. We sent her some initial design ideas and she came up with some great designs that we absolutely loved. When we sent her my dad's shirts, she dealt with them so sensitively and carefully and made the whole process of making the quilts collaborative and so so enjoyable. When the quilts arrived it was a hugely emotional experience for us and just a beautiful way to remember my dad and pass something on to our children – this was all thanks to Michèle and her wonderful skills and ways of working with her clients. In addition to this, she made such thoughtful touches throughout which were so meaningful and kind. I would not hesitate to recommend her or use her again."
---
"Runny Babbits made us a totally bespoke bed bumper to our daughters baby cot. Michèle was so helpful and guided us through materials, colours and techniques, we ended up ordering a bed runner for ourselves also and even with all the choices it was made easy because of Michèle's knowledge and help. It was also very comforting knowing Michèle and her husband (David) have vast experience in safety when it comes to baby/child furnitures and items.
The cot bumper and runner turned out better that we could imagine and we will definitely contact Runny Babbits again when our second child is born.
"
Robert H.    Norfolk UK
---
"

I purchased a personalised cot blanket, matching pillow and soft toy from Runny Babbits for my niece as a Christening present. The items were beautifully made with great care, artistry and attention to detail. The service was excellent and the items were ready on the day promised. I was delighted with them."
---
"The quilt arrived yesterday afternoon.  I am absolutely thrilled with it.  It is so beautiful and goes perfectly in my daughter's bedroom.  You are so talented. I love the cushion too and would love to buy it.  Please send an invoice and I will get that sorted. Thanks again for all your help and assistance.  You've been amazing."
Longarm Quilting Services
We are also delighted to offer a Longarm Quilting Service. More information is available here>

---
*The Waltons was a story about John and Olivia Walton and their seven children, living in Virginia in the 1930's/40's during the Great Depession
SaveSave
SaveSave
SaveSave