Can't find exactly what you're looking for?
If you like the products we have on runnybabbits.co.uk, but you can't find exactly what you're looking for, then contact us. At any one time we also have a number of quilt tops in progress, waiting to be quilted. These are not shown on our website. They're at the perfect stage to be personalised.
Alternatively you could commission a bespoke quilt, blanket, or cushion to be made to your own exact specifications. We'd be delighted to see if we can make it for you.
You might have an idea for your nursery or child's room and you want to discuss how you can develop that into an interior scheme – thats our forté. Please feel free to call Michèle on 07749 326197 or email [email protected]

Design and Bespoke Possibilities
There are so many design possibilities; so many colours and patterns available. It can be difficult narrowing it down.
We like to think we are able to help by designing and making something bespoke for you. We simply love fabrics and colour, and we love working with them. Whether it's designing and creating a quilt or blanket, or creating a complete nursery of soft furnishings, we are up for the challenge.
And don't forget! – if we're designing something from scratch it's easier to personalise.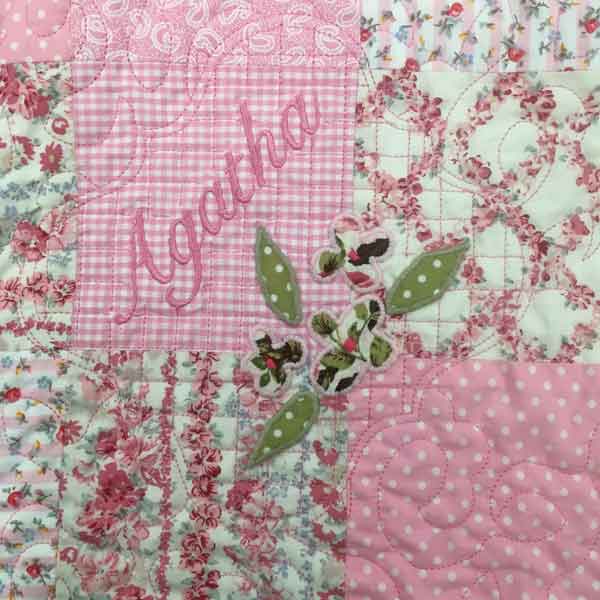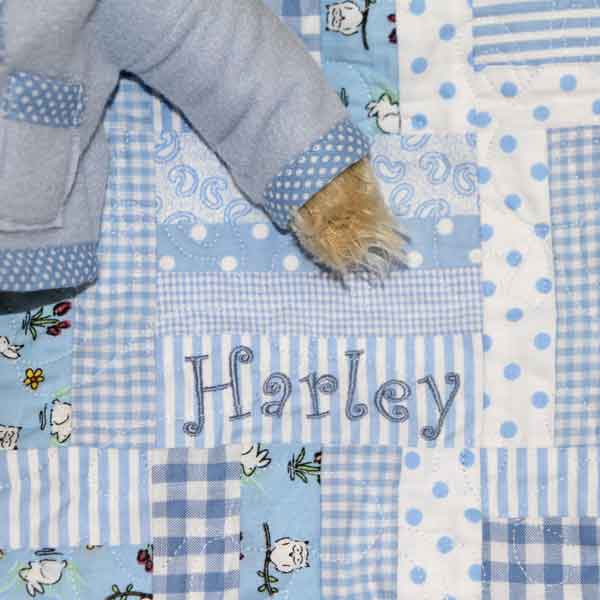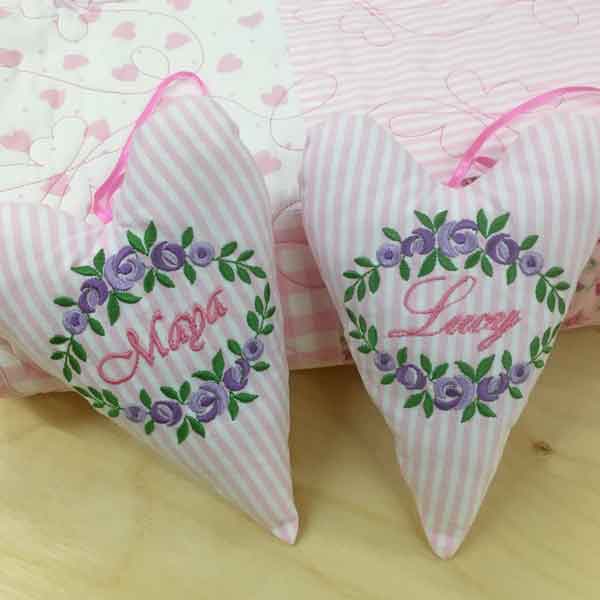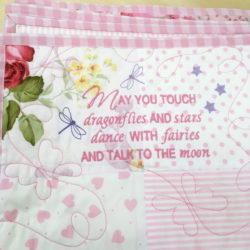 Personalisation
We can personalise finished quilts and blankets by adding a label with a name or special message (View some of our label designs here).
At any time we also have quite a number of patchworks 'in progress', that can easily be personalised (before quilting), with a name, date of birth or special message for a small additional cost. If you are interested in having a personalised quilt, but don't want to have a quilt designed to your specifications, this provides a quicker option.
Call us and we can send you images of designs we have in progress. We'd be happy to discuss the possibilities.
07749 326197
NB. Please note personalisation will increase the delivery time.
You can see images of quilts, blankets, etc., we've made (some of which may no longer be available on our site to purchase) here in our gallery.
View our current range of quilts and patchwork quilts. View our current range of patchwork blankets.
We are also happy to create memory quilts for your loved ones.
Testimonials
---
"Michèle is the most fantastic quilt maker and provides a second-to-none service – I can't recommend her highly enough. When my father passed away before my first child was born, I wanted a special way to remember him to my child and Michèle made memory quilts for myself and my sister. We sent her some initial design ideas and she came up with some great designs that we absolutely loved. When we sent her my dad's shirts, she dealt with them so sensitively and carefully and made the whole process of making the quilts collaborative and so so enjoyable. When the quilts arrived it was a hugely emotional experience for us and just a beautiful way to remember my dad and pass something on to our children – this was all thanks to Michèle and her wonderful skills and ways of working with her clients. In addition to this, she made such thoughtful touches throughout which were so meaningful and kind. I would not hesitate to recommend her or use her again."
Laura L. London UK
---
"Just to let you know that we have received the quilt today.
We are over the moon with it and I'm sure [our son] will cherish it for years to come.
We are so happy that we managed to find your website and feel we've got something that is truly unique to celebrate his first Christmas.
The quality of the quilt is outstanding. As you say on your website the photos really don't do the quilts justice.

Thanks again for all your help and the high level of service you've provided us throughout. It's been an absolute pleasure dealing with you and I'm sure we'll be in touch again for another gift in the near future."
James I.    Barcelona Spain
---
"Runny Babbits made us a totally bespoke bed bumper to our daughters baby cot. Michèle was so helpful and guided us through materials, colours and techniques, we ended up ordering a bed runner for ourselves also and even with all the choices it was made easy because of Michèle's knowledge and help. It was also very comforting knowing Michèle and her husband (David) have vast experience in safety when it comes to baby/child furnitures and items.
The cot bumper and runner turned out better that we could imagine and we will definitely contact Runny Babbits again when our second child is born.
"
Robert H.    Norfolk UK
---
"

I purchased a personalised cot blanket, matching pillow and soft toy from Runny Babbits for my niece as a Christening present. The items were beautifully made with great care, artistry and attention to detail. The service was excellent and the items were ready on the day promised. I was delighted with them."
---
"The quilt arrived yesterday afternoon.  I am absolutely thrilled with it.  It is so beautiful and goes perfectly in my daughter's bedroom.  You are so talented. I love the cushion too and would love to buy it.  Please send an invoice and I will get that sorted. Thanks again for all your help and assistance.  You've been amazing."
---
SaveSave
SaveSave
SaveSave
SaveSave
SaveSave
SaveSave
SaveSave
SaveSave