A pretty nursery colour scheme in lilac, pink and grey
On our mood board we've created a pretty lilac, pink and grey nursery colour scheme. We based it on our 'Elephants and Paisley' quilt and blanket design. The colours in the quilt are picked out with lilac and pale grey emulsion paints. Complement this with plain white emulsion for some of the walls. Add pink as contrast too.
If your feeling brave you could try taking inspiration from the banded wall of stripes and spots shown below. Paint your wall in similar patterns and colours. Very striking.
The overall lilac room by Projectnursery.com has the lilac on all the walls, but another way would be to break up the space by creating a focal point using the lilac on one wall only. Add this absolutely stunning elephant print from Imagend.com and create the perfect feature for this wall. We're sure your baby would come to love it as he/she grows up.
We found this pretty, grey, elephant lamp from Urbanoutfitters.com, so cute.
Instead of boring plain white furniture, use some repurposed, painted drawers (with a deliberately more pinkish hue!). It'll add real character to the room. Initially use the drawers as a changer unit, and revert them later to being just drawers. Set them off with this striking, striped changer with lilac minky top. We found it on Pinterest from Etsy.com. A gorgeous elephant mobile keeps with the theme.
Finally, add some lilac storage baskets, maybe a lilac rug. Et voila! You have a really unique and personal nursery for your little one.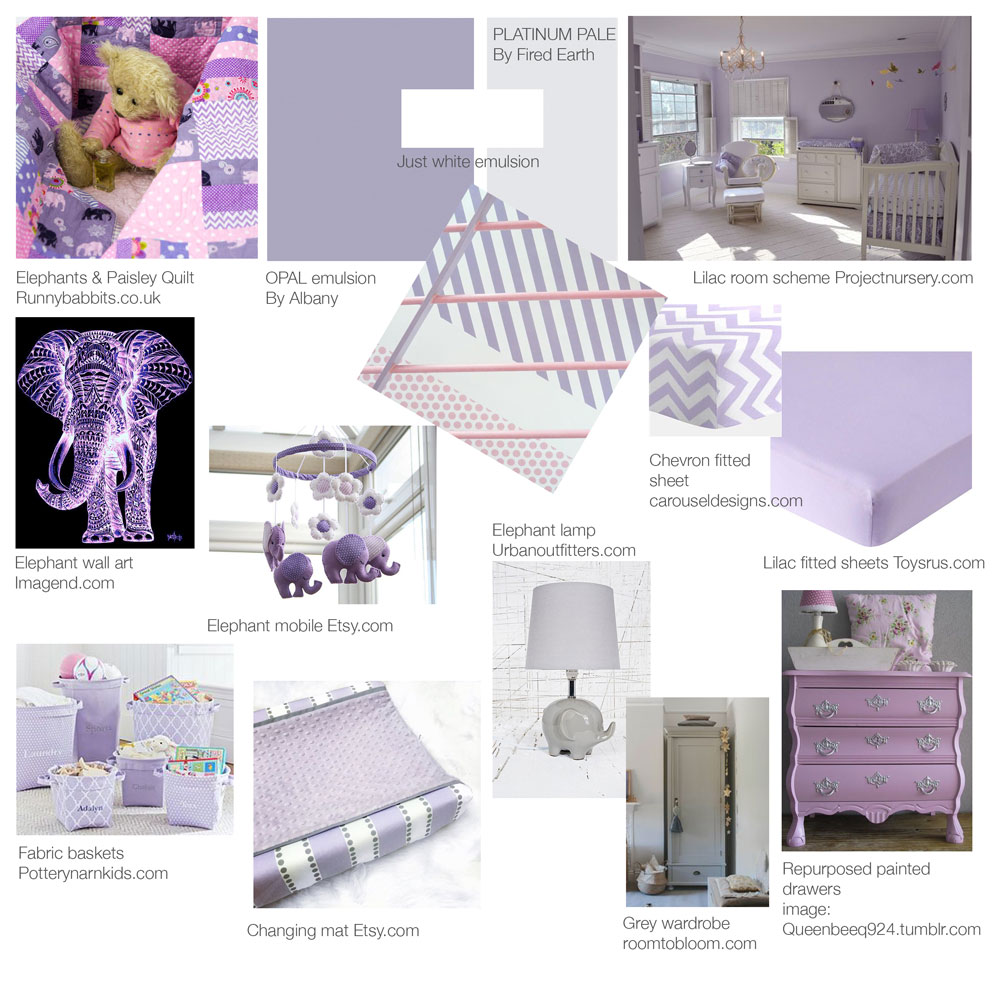 We are always creating new quilts and blankets, and will be posting more nursery colour scheme mood boards based on our new designs over time, so keep an eye out.
If you're looking for ideas on themed nurseries we give a few tips here.
For practical tips on creating a functional nursery see our article 'The ideal nursery'.
To view more mood boards see 'A car themed nursery scheme' ', 'A pretty pink nursery scheme with Flutterby Butterfly quilt', and 'Gender neutral nursery scheme in white and grey'. (edit)