Pretty pink nursery scheme with 'Flutterby Butterfly' quilt
This pretty pink nursery scheme is centred around our 'Flutterby Butterfly' quilts and blankets range. A soft pink emulsion for the walls with tiny accents of lilac and cerise create a truly feminine room. We found this charming cherry blossom wall art decal on Pinterest from Etsy.com. It would look fantastic on one wall. If you want to keep with the butterfly theme we found these stunning butterfly decals in a lovely purple hue. Of course if you're brave enough, you could combine both the butterflies and the cherry blossom!
Keeping with either the rose or butterfly theme, we found two hanging mobiles; one a delicate rose posy, and the other a myriad of floating 'shades of pink' butterflies. Either mobile would look great with this scheme.
For the furniture we simply love the look created with the various pieces painted in the different pastel colours. You could use any number of different pastel shades to suit. The ombre pink drawers make quite a statement if you prefer not to have so many colours. The pale pink wardrobe is so pretty. It makes so much more of a statement than the usual white or wood alternatives. Each adds such character and individuality to the room. If on the other hand, you have a fitted wardrobe, the approach of painting the inside a 'pink surprise' is a lovely idea.
For finishing touches, and continuing along the pastel painted route, we found these crates that have been painted in beautiful pastel shades and dressed with ribbons, lace a flowers – deliciously feminine.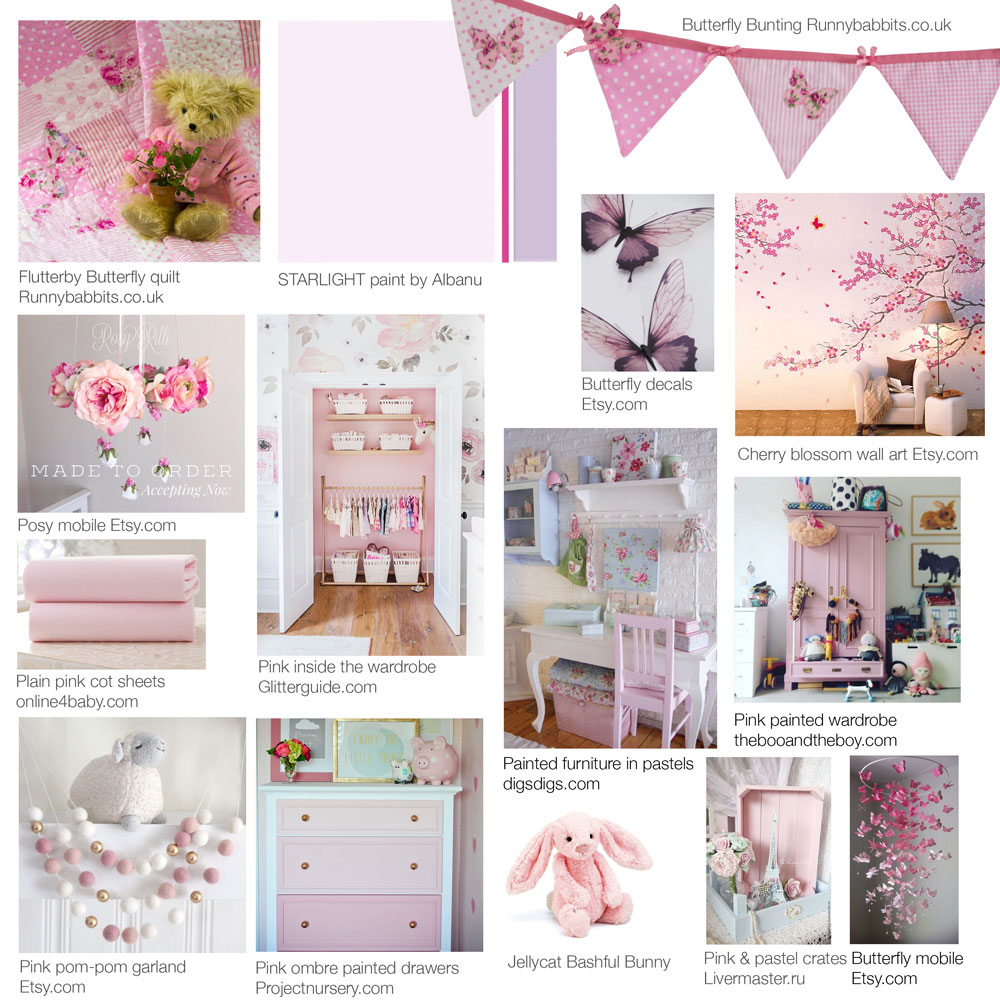 We are always creating new quilts and blankets. We'll be posting more nursery scheme mood boards based on our new designs over time, so keep an eye out.
If you're looking for ideas on themed nurseries we give a few tips here.
For practical tips on creating a functional nursery see our article 'The ideal nursery', and for ideas on creating a themed nursery 'How to start designing your ideal nursery decor'.
To view more mood boards see 'A pretty nursery colour scheme in lilac, pink and grey', 'A car themed nursery scheme' and 'Gender neutral nursery scheme in white and grey'.