Gender neutral nursery scheme in white and grey
The first of our mood boards is based around a white & grey, gender neutral, nursery scheme. Our 'Happy Days' quilt in white with a silver grey binding and silver grey stitching forms the starting point. We simply love this modern cot shown in the image from citymom.nl. It looks truly elegant set in its black, white and grey surroundings.
A standard brilliant white emulsion is used for the vast majority of our scheme. This is complemented with a pale, Gauze grey emulsion paint by Little Greene used for an accent wall. We've shown a couple of wallpaper options. A star and a stripe pattern from Graham and Brown if you like wallpaper. As an alternative you could use the silver star wall stickers we found on Pinterest from Amazon.com on either the white or grey emulsion wall. On the white wall they'd be very subtle, or as shown on the image on the grey wall they're still subtle, but very effective.
A contemporary, white upholstered chair would fit beautifully with this scheme. The grey changer unit would add character and contrast into the room. We found a perfect grey and white star print changer pad from Next.com. For the cot we found some chevron and star print fitted sheets from Johnlewis.com, which would contrast beautifully against the white quilt.
We absolutely adore the Shropshire rocking horse with its gorgeous long mane and tail. This would surely become a treasured heirloom.  The black & white, woodland animal prints are in keeping with the neutral scheme, adding both character and interest.
Little finishing touches such as the'Lil Man Cave sign and the fabric storage boxes continue the neutral palette. Throw in a grey and white rug like this one from Jossandmain.com to complete the look.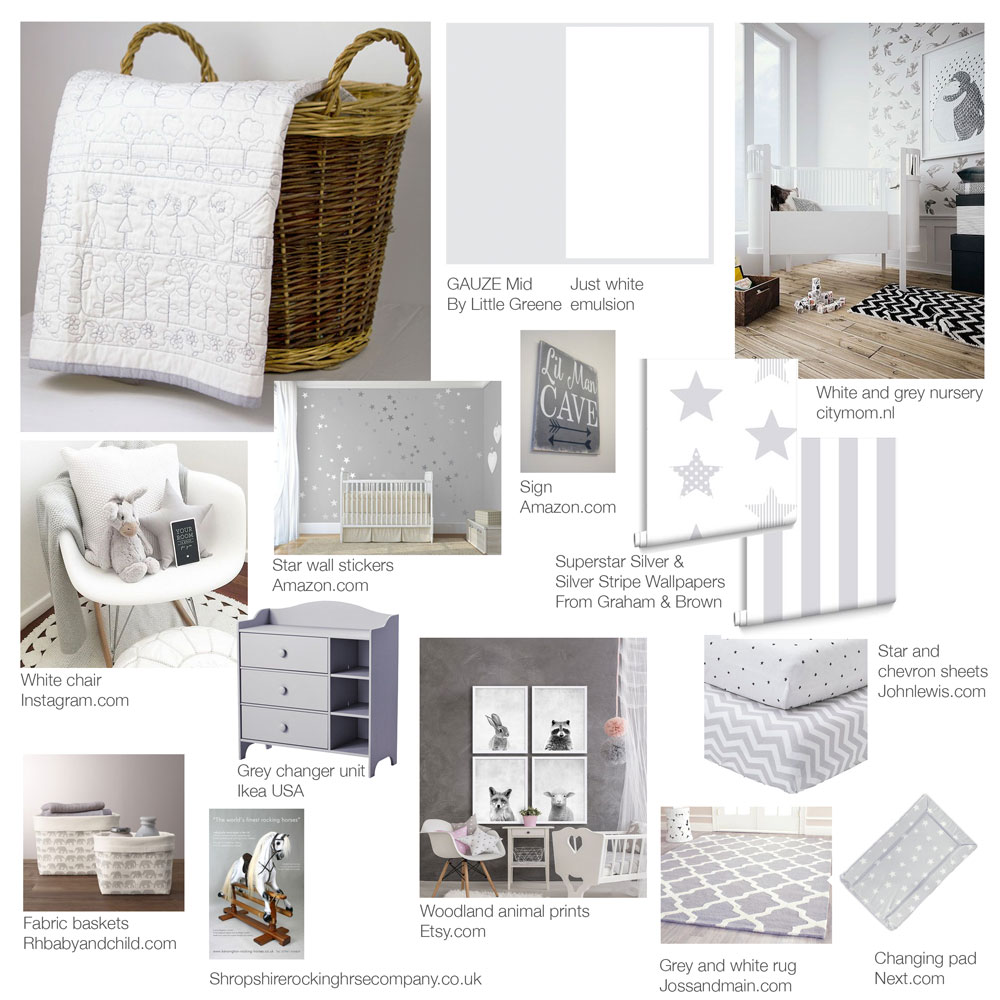 We are always creating new quilts and blankets, and will be posting more nursery colour scheme mood boards based on our new designs over time, so keep an eye out.
If you're looking for ideas on themed nurseries we give a few tips here. For practical tips on creating a functional nursery see our article 'The ideal nursery'.
To view more mood boards see 'A car themed nursery scheme' ', 'A pretty pink nursery scheme with Flutterby Butterfly quilt', and 'A pretty nursery colour scheme in lilac, pink and grey'. (edit)